About Wendy Jackson Hall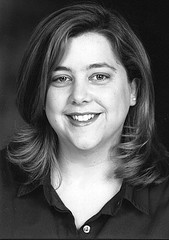 Wendy Jackson Hall was a lover of animation, puppetry, and of life. An animator in her own right, Wendy enthusiastically promoted the art of animation and art in the life of the community. During her ten-year career, Wendy enjoyed success as a writer for animation journals, an independent filmmaker, a leader in the International Animated Film Association (ASIFA), and above all, as a teacher of animation.
After Wendy earned her BFA from the Rhode Island School of Design in 1995, she worked in Hollywood for ASIFA Hollywood, and for Animation World Network. She then relocated to the Seattle area where she helped design and build the Hands-On Animation Laboratory at 911 Media Arts. Wendy taught animation to children and adults at 911 Media and at other locations in Seattle. Wendy also served as an artist in residence in a number of schools in the greater Seattle area. After moving with her husband to Bainbridge Island, Wendy started her own company, Animated Adventures, and focused on teaching animation to children, working in the schools, and running her own classes in the community.
Wendy is remembered by her friends, colleagues, and students for her abundant energy, generous spirit, creativity, and her amazing ability to inspire others, young and old, to take joy in the creative process and to discover their own potential.
The Wendy Jackson Hall Scholarship Fund was established in Wendy's memory to support others whose creativity and love of the arts leads them to pursue an education in the visual arts and to share this love with the larger community.